Antique Victorian Grape Cluster Red Paste Silver Plated Pendant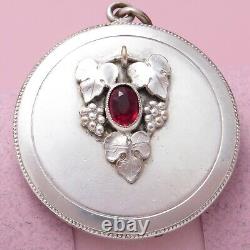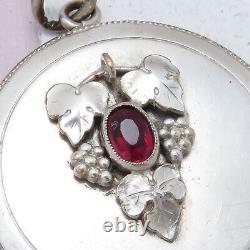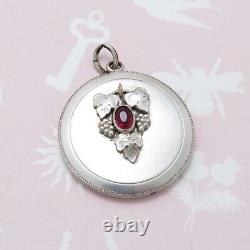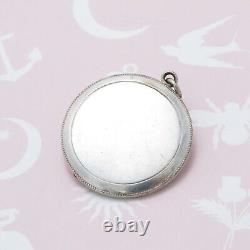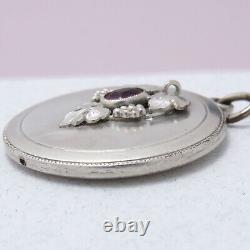 Just over 1 1/8 (excluding bail). Tests for silver plating, glass. Why You'll Love It. The secret language behind Victorian jewelry.
Rendered in refined detail, this antique pendant depicts the sweetest cluster of grapes and leaves at the focal point, symbolizing. Its classic round shape is inset with a rich merlot red paste giving the silver-plated setting just the right touch of shimmer. Bright patina with minimal surface wear to the setting. Fresh sheen, light surface wear, and no chipping on the glass. Symbolism in antique and vintage jewelry is common, yet it can be hard to spot if you don't know what you're looking for.
Often, specific natural gemstones, flowers, birds, and motifs like stars and anchors were imbued with meanings that have fallen out of present-day society's collective memory. To appreciate the power of symbols in antique jewelry is to imagine what it would have been like to wear the piece and step back into history. A young Queen Victoria assumed her role in 1837 and her taste in jewelry quickly became culturally influential, within England and beyond.
Her relationship to jewelry was enmeshed with her husband, Prince Albert, who gifted the Queen for their engagement, a snake ring, embedded with an emerald (her birthstone) in its head. Continuing from the Georgian era and intensified by Queen Victoria. Taste, sentimental and figural jewelry was a major trend throughout the Victorian era. When certain ideas and words were deemed too forward or improper to be spoken, jewelry and symbolic meaning was used to communicate what was left unsaid. _gsrx_vers_1503 GS 9.2.1 (1503).

---