Kings Pattern Silver Plated Cutlery Set Canteen With Box Mixed Brands A1 EPNS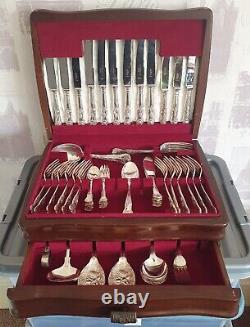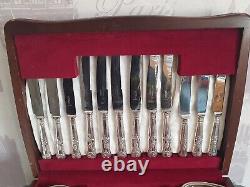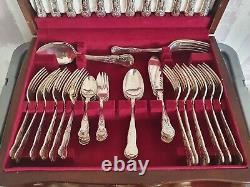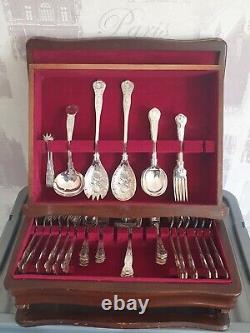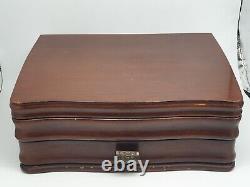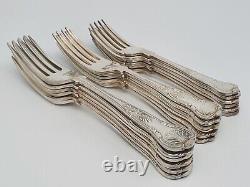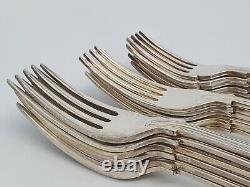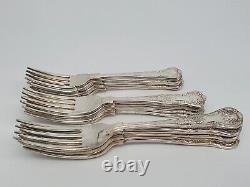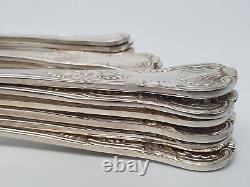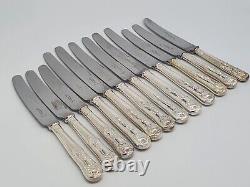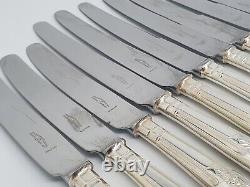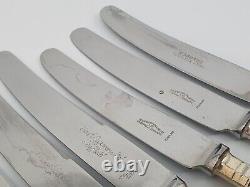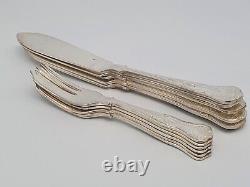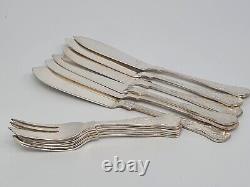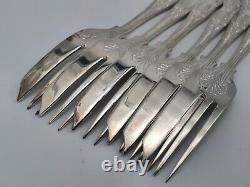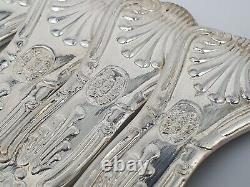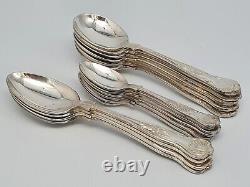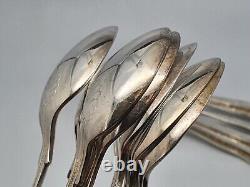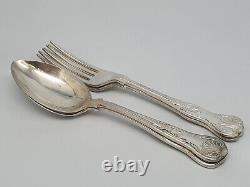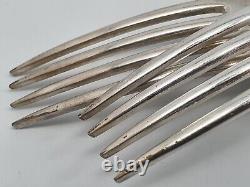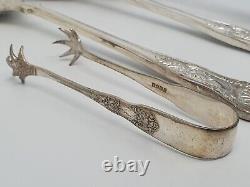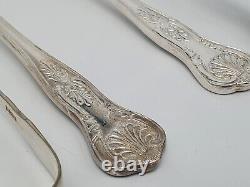 Minor to moderate marks/signs of normal use throughout. Minor to moderate tarnishing to the silver plate (may or may not benefit from a polish depending on individual preference). Minor plate loss, tips of forks etc. Allthough it would be very difficult to notice this canteen is made up of MIXED brands as there's some slight differences between a few of the pieces. Details of brands and any minor differences (if any) below. Only 4 Tablespoons 2 are missing. The box is in good condition with moderate marks/signs of use throughout. Scratches chips to the veneer etc. The knives have a habit of falling out of their slots when the case is closed. Included in this set are the following. X6 Large Dinner forks (x5 marked EPNS-A1) (x1 Marked EPNS A1 SHEFFIELD ENGLAND and very slightly longer and thinner). X6 Medium Sized Forks (all marked EPNS A1 SHEFFIELD ENGLAND). X6 Dessert Forks (all marked EPNS-A1). X6 Dinner Knives (x4 marked Smith Seynoun Sheffield with back edge blades) (x2 marked Cooper Bros England no back edge).
X6 Dessert Knives (x5 marked Cooper Bros England) (x1 marked Osbourne). X6 Pastry Forks (All marked Made in Irish Republic).
X6 Fish Knives (All marked EPNS-A1). X6 Teaspoons (All marked EPNS A1 sheffield england). X4 Tablespoons (EPNS A1 Sheffield England). X6 Soup Spoons (All marked EPNS-A1). X2 Serving Forks (marked Cooper Bros).
X2 Serving Spoons (marked EPNS-A1). X1 Soup Ladle (marked EPNS A1 Sheffield England).
X1 Salad fork and x1 Spoon (marked Falstaff). X1 Sugar/ice tongues (marked EPNS). Featuring the very attractive Kings pattern. There's plenty of cutlery to choose from to cover a whole host of food options and courses. From soups and starters, to mains, fish dishes, pasta, salads, pastrys, breakfasts desserts and a whole lot more.
Dinner fork length - 20cm. Medium fork length - 18.5cm. Dessert fork length - 17cm.
Pastry fork length - 14cm. Soup spoon length - 17.5cm. Dinner knife length - 24cm. Dessert knife length - 21.5cm.
Fish knife length - 20.5cm. Soup Ladle Length- 18.5cm. Soup Ladle width - 6.5cm. Salad spoon and fork length - 24.5cm.
Sugar/ice nip length - 11cm. Serving fork length - 21cm.
Serving spoon length - 20.5cm. Measurements are done by hand and may vary very slightly depending. Sometimes (when possible) i re-use certain packaging materials so long as they are still viable and clean. In the very unlikely event that there is a problem please contact me and i will ensure that any problems are rectified in a respectful and timely manner.
Thank you for taking the time to read this description and dont forget to check out the rest of our items.

---