Necklace agate cameraman original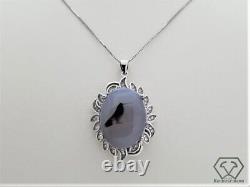 Necklace women shaped medium Made of silver 925 rhodium plated, and inlaid white zircon stones, And the main stone the agate Yemeni cameraman rare original shaped image (bird), shape of the stone is plain, 100% transparent and natural. Main stone: precious stones > illustrated agate. Processed / Natural: 100% Natural.
Stone weight: 4.6 g. Stone size: 21.4 x 16.4 x 7.5 mm. Frame weight: 5.9 g. Seamless weight: 2.2 g.

---