Original Louis Lot Silver Plated Flute, Close To Pristine, New Pads, Unaltered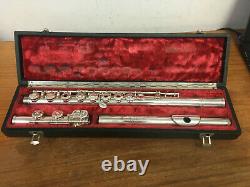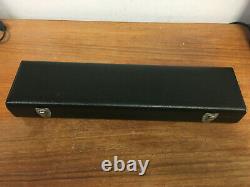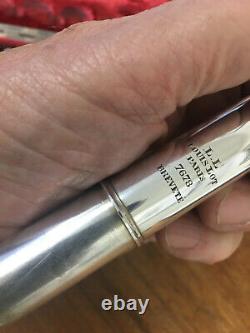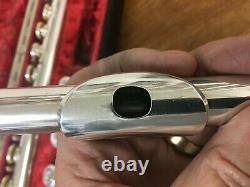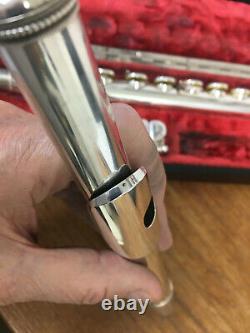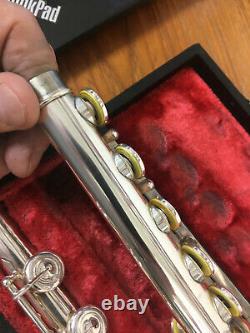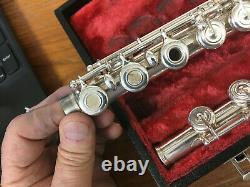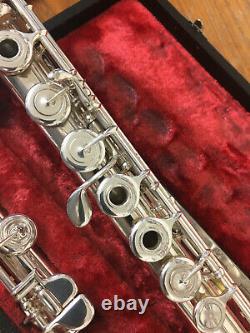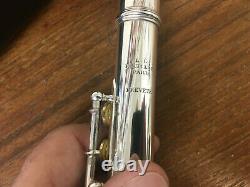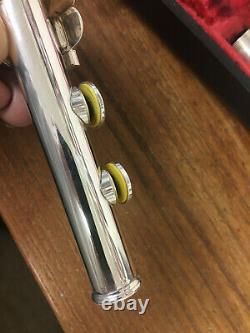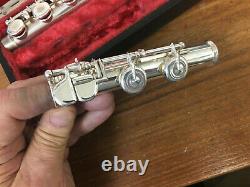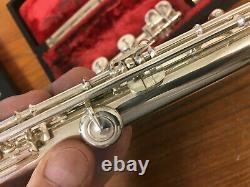 WICHITA BAND INSTRUMENT COMPANY, since 1953! An original flute from the Paris workshop of Louis Lot, first part of 20th century.
Soldered tone-holes, C foot, keywork showing no wear to the hinge-tubes or pad-cups. The flute was constructed with inline G, and soldered tone-holes. Traditional scale, sounding length is 600 mm (A = 440). I see no sign that the head has been cut shorter or altered in any way. The flute has not been "re-tuned". Embouchure measures 10.1 X 11.8 mm. Embouchure plate is solid silver (sterling), the tube is silver plated. The instrument is listed in Lot's record book, the entry dated May 27, 1926. Owner of the instrument was M. Moreau, resident of Vesoul Hte. "Remise a neuf" means a full overhaul. The flute is part of a small collection of French instruments that I've acquired over the years, which means I may offer to sell a few more in the upcoming months. But please note: This instrument wears all original parts and has not been cut shorter or re-tuned. Regretfully it is not for sale to any person who might have plans to alter it in any way. I have a wonderful English wife, I own two vintage British roadsters and I've visited the UK more than one hundred times.
But I will not sell this flute to a resident of England where the ruination of fine vintage instruments seems to be acceptable. Always glad to hear from flute people! In January of 2021 our small workshop in Wichita celebrated sixty-eight years in business. Over the decades, weve repaired and restored more than two hundred vintage French flutes from Louis Lot, Bonneville, Claude Rive and Buffet-Crampon plus hundreds of professional-quality flutes from Haynes and Powell. Today we have ten employees including five of the finest repair technicians in the country.
We are not amateurs, nor are we a back bedroom operation. We would be pleased to furnish you with references attesting to the above. BEFORE WE SEND ANYTHING TO YOU. The instrument is carefully inspected by us to make certain its spotlessly clean. We disinfect the exterior of the instrument, spray the exterior of the case as well. We do not send anything to you without its being checked and then checked again. A FEW WORDS ABOUT OUR SENDING ON APPROVAL. Weve had the same policy for half a century, are always happy to send almost anything for a short trial period.
Five days is, we believe, sufficient for a trained musician to decide if the item sent them is a good match. With recorders, clarinets, flutes, and oboes, we remove all the keywork, then give the bodies a quick bath. Soap and water, but not long enough to harm the finish. Keys are lightly sprayed with a disinfectant and pads are lightly swabbed with the same.
Then, back in the case after a spray to the exterior and carrying handles of the case. Not sure what the other shops are doing about this issue (Ive asked and have had no replies), but we think our clean-up work is exactly whats required to keep everybody safe. Wichita Band Instrument Company is a small musical instrument emporium located in the center of the USA. Weve been in business since 1953 and have had the same owner since 1963. Originally we were a repair shop that specialized in woodwind and sax restoration.
Virtually ALL the items we sell have been fully reconditioned in our own shop, although we do sell a few unrestored historical instruments each year. Its in addition to any factory guarantees. For two full years, we will repair or replace, whichever in our estimation is the more advisable, pads, corks, springs or other parts required, at no charge to the customer. Wichita Band Instrument Company maintains a repair department capable of restoration work of the highest quality. Even though repairs are essentially free for the first two years, after that period has expired, we remain at your service to maintain and repair your musical equipment forever.
Its our service after the sale promise and has been since 1953! Anything we sell can be sent to you for a short approval period without obligation. Were happy to respond to any and all questions about flutes and other musical instruments, but please dont write and ask Whats grannys mellophone worth? In January of 2021, our small workshop in Wichita celebrated sixty-eight years in business.
We are not in the 1952 Wichita telephone directory, but we ARE in the 1953. Over the decades, weve repaired and restored hundreds of woodwind instruments, specializing in woodwinds from the early twentieth century and before. WICHITA BAND INSTRUMENT COMPANY / WICHITA, KANSAS / USA. The item "ORIGINAL LOUIS LOT SILVER PLATED FLUTE, CLOSE TO PRISTINE, NEW PADS, UNALTERED" is in sale since Thursday, November 11, 2021. This item is in the category "Musical Instruments & Gear\Wind & Woodwind\Band & Orchestral\Flutes". The seller is "josaxmomma" and is located in Wichita, Kansas. This item can be shipped worldwide.
Instrument: Flute
Experience Level: best model
Headjoint Material: silver
MPN: does not apply
Body Material: Silver
Brand: Louis Lot
Key Type: Open Hole
Riser Material: Silver

---